FLORA DANICA ONLINE
Welcome to Royal Copenhagen Flora Danica Online. Our mission is to offer you the finest educational site about Royal Copenhagen Flora Danica in the world. Not all questions you might have can be answered here. You are always welcome to e-mail your questions.
On this site you will find a reference list showing you all the different pieces of Flora Danica that Royal Copenhagen has produced since the first pieces left the factory. There you can also see the connection between the old and new numbering system on the pieces.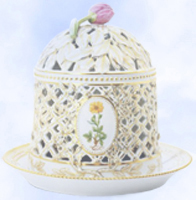 HOME
FLORA DANICA FLOWERS
KNOWN TO BE PAINTED
FLORA DANICA FLOWERS IN PRODUCTION
FLORA DANICA GAME, BIRD, FISH AND FRUIT
FLORA DANICA HIPPOPOTAMUS SERVICE
This site will have pictures of "Flora Danica", showing most the different floral motifs ever painted, as well as all the fish, game, birds, and fruits.
Pictures, information and articles of the special, newly finished Flora Danica service with Hippopotamuses are also on this site.
For new and used Flora Danica: Danish Porcelain Online,
DPO Gallery, www.danishporcelain.com
or call toll free: 1-866-228-9374
email: sales@danishporcelain.com Owner-Laura Birch